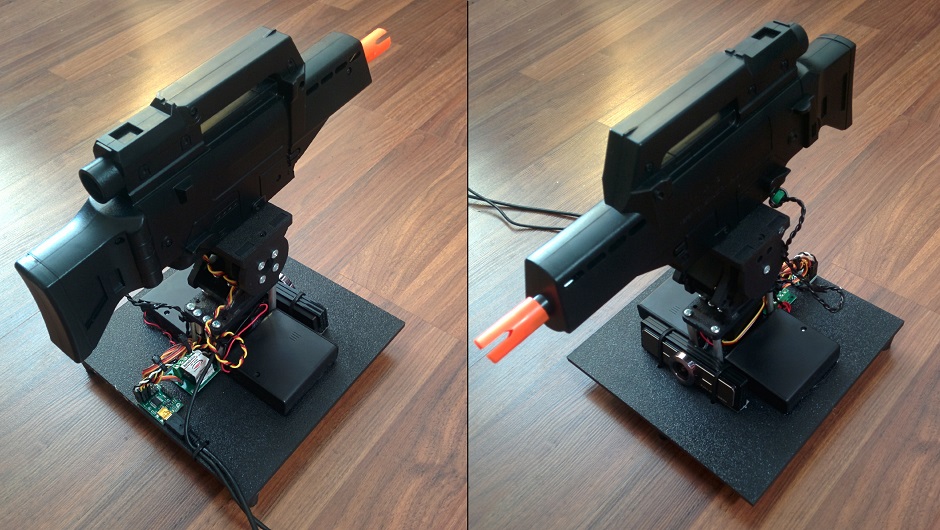 What is the 'Mini Turret'?
A turret is a rotating weapon platform. It is a pan/tilt assembly that holds a non-lethal airsoft or paintball gun. This kit is an answer to many requests for a complete sentry gun. We offer these kits because currently there are no other options out there besides trying to build it yourself.
What can I use it for?
Scenario airsoft games (capture the flag, base defense, etc.)
Military/Law enforcement training (increased realism)
Any other non-lethal area defense
What is included?
Everything except the laptop and 8 AA batteries.
3rd Party Review
The following link is an audio interview in which one of our customers (Drew Curtis from Fark.com) guest appeared on a BoingBoing Gadgets podcast 11 to speak about his experience with the heavy turret. boin_boing_gadgets_podcast_11_excerpt.mp3 (full podcast with article (specifically from 9:40-16:25))
Bill of materials
Starter Kit:

$50

mini UZI (modified):

$25

Modification and assembly labor:

$20

Pan/Tilt with base and servos (assembled from servocity.com):

$120

"Battle switch" RC relay trigger:

$25

Wiring and battery holder x2:

$10

modified wide-angle webcam:

$60

Labor (5+ hours):

$68

TOTAL:

$378
Shipping to the USA is $30.
International shipping is sent via FedEx International Priority and is either $170 or $205 depending on the destination country.